REMAIN THIS MOMENT
London-based Japanese-American set artist Kei Yoshino walks in the streets in search of a pine branch with the shape, color, and even the degree of decay in her mind. She often goes out to find the meaning of nature and then brings that feeling back into her work.
In autumn and winter, ANEST COLLECTIVE invited Kei to design and create a set of sculpture installations for the Shanghai boutique, located on a street where people can breathe freely. The overall shape of the installation looks like a work being sculpted by the artist. Visitors feel like they are in the artist's studio, which is also a metaphor for ANEST's passion for craftsmanship. Everything seems to be happening naturally, just like the name of this exhibition—— ART IN PROGRESS.
Kei is good at understanding universality. This mysterious word is indeed the beginning of this cooperation - no matter how different the two parties are, there must be commonalities between them. For ANEST and Kei, this commonality is the consensus of the fascination and identification: what happens naturally is always more beautiful than what is intentional. Kei said in our conversation: "After 20 years in this industry, I still think the most fascinating thing is Fortuitousness. Spontaneity can happen anywhere."
Even the boutique online can only show Kei the whole picture as much as possible, the daily space-style display and interior make Kei feel as if she is involved in the natural world she is most familiar with, and then aroused her endless inspiration, "The design itself is very beautiful, natural-looking materials are used, and the furniture is carefully selected, so I wanted to keep that vibe," Kei said.
Kei drew on the idea of ​​the exhibition and created a series of unique works. The two white sculptures have soft curves and structural shapes at the same time, like strange rocks, some angles are small and peaked, and some angles are tall, what you see is different from any angle, and you can find the different scenes when you move, so that visitors can't help but detour to watch. At the same time, it likes viewers walking between the garments with a sense of volume on one side, the two phases are balanced and each has its own color.
And The pine branch we mentioned at the beginning is placed on the second floor of the boutique together with another device, which gently pushes the hanging ball, like a clock pendulum, precisely walking on the beautiful curved surface of time.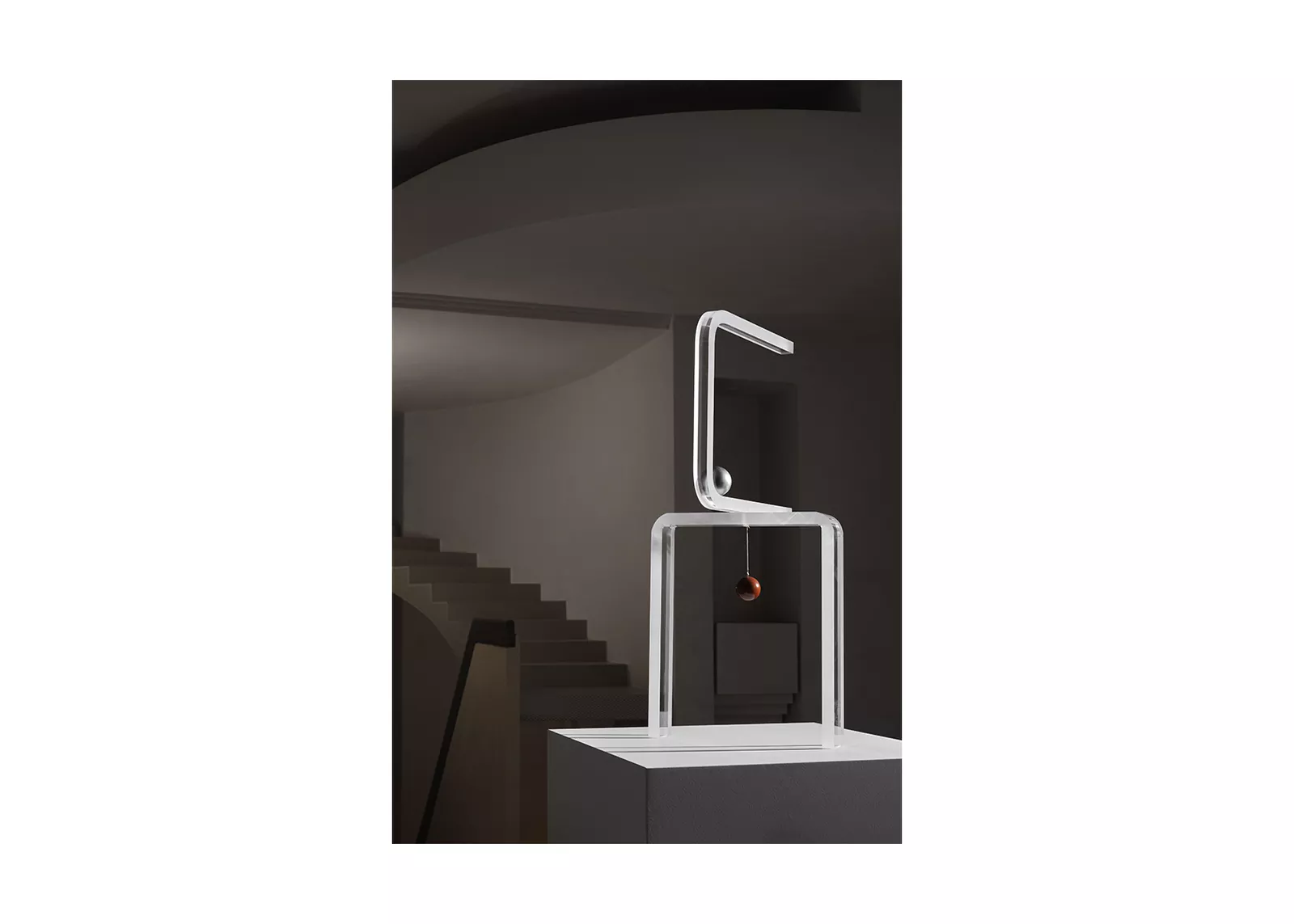 The fashions on both sides are stretched, quiet and restrained, and they also stand like sculptural silhouettes, allowing the time to flow slowly.
Setting: Kei Yoshino Photography: Boris Shiu Video: Coppakstudio